St. Lawrence Market
Establishment, food and art gallery at 93 Front Street East, Toronto, ON M5E 1C3, Canada. Here you will find detailed information about St. Lawrence Market: address, phone, fax, opening hours, customer reviews, photos, directions and more.
Opening hours
| | |
| --- | --- |
| Tuesday | 08:00am — 06:00pm |
| Wednesday | 08:00am — 06:00pm |
| Thursday | 08:00am — 06:00pm |
| Friday | 08:00am — 07:00pm |
| Saturday | 05:00am — 05:00pm |
Rating
4 /5
Based on 2 reviews
Photos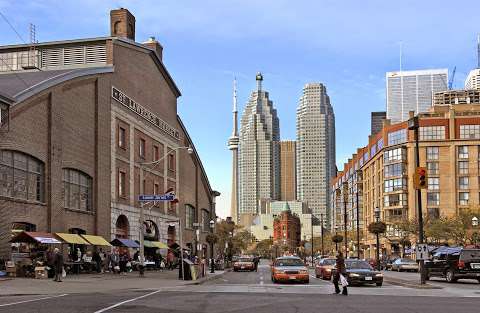 Reviews of St. Lawrence Market
Philip Petroschke Added 2018-06-17

★ ★ ★ ★ ★

Bought a place at Market Wharf to be across the street from this place. Apart from this market vein rated #1 in the world by National Geographic a few years ago, this market has transitioned this area into a very diverse community. I mean they have everything from camel burgers to crocodile steak, sushi grade fish, to some of the best cheese I've ever tasted. It's perfect for daily shopping so everything is fresh. By small and waste less.

Kevin B Added 2018-05-25

★ ★ ★ ☆ ☆

Decent market with some prices that are lower than, and some that are higher than, Metro across the street and other major grocers. In the summer it is busy as hell with busloads of tourists who block the aisles looking around like they've never been to a public market before. Most retailers are very friendly and can make recommendations to suit your needs. To me, the big downside is that in true 1950s Toronto fashion, they are closed on Sundays and Mondays. Makes me think... if they can make so much money 5 days per week that they can close the other two (unlike every other business in the city) then they are doing just fine.
About stlawrencemarket.com